Atlantic Beach Homeowners Association NPC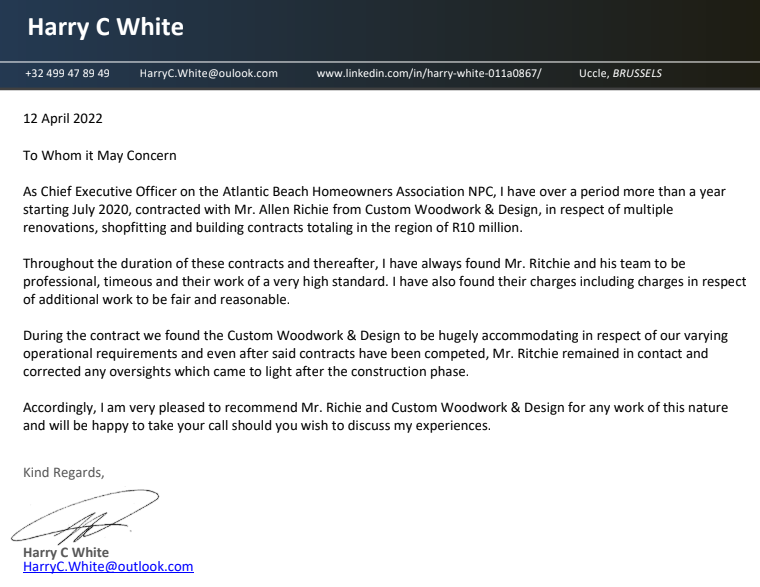 Mr Alan Ritchie from Custom Woodwork Design was contracted to design and build four of our South African Hooters Restaurants in Cape town , Durban, Fourways Johannesburg and in Emperors Palace Casino, Alan not only managed the projects but was also hands on , personally taking care of all woodwork shopfitting , his attention to detail and hands on approach sets him apart from other contractors we've used and should we decide to open further stores in South Africa , Alan will be our go to person
Excellent service, quality and workmanship It was a pleasure working with Alan Ritchie from Custom Woodwork & Design from concept and design to installation of the outdoor play equipment for our doggy day-care. Consisting of Ramps, cubes and tunnels. His workmanship exceeded our expectations, the workmanship and the materials used were of exceptional quality. They respected our surroundings and worked around our timetable they finished in the time frame that was originally stated in the proposal. Thank you, Alan, for an exceptional job!
Alan Ritchie from Custom Woodwork and Design has done numerous work around my house including kitchen and bedroom cupboards, a custom dining table and coffee tables, specifically designed for my requirements. He has also done all the cupboards at my medical practice. Custom Woodwork and Design's workmanship is excellent and I have found Alan to always be punctual, honest and willing to go the extra mile for me. I would recommend Custom Woodwork and Design to anyone who is as meticulous as I am and for anyone who is looking for impeccable workmanship. Thank you Custom Woodwork and Design for all the brilliant work which you have done.
Alan is a pleasure to work with - well, he does the work and ensures that you have the pleasure. He, with Ali as his hard-working, smiling assistant, are: - trustworthy, punctual, responsive, empathetic, competent, skilled, efficient, and maintain an open line of communication. Alan takes enormous pride in his work, which shows in the result which he can bring you. It started with an idea, we had one meeting, approved Alan's input and quote, and 4 days later we had something more beautiful than we could have imagined. Our deck is somewhat of the centre-piece of our house now. Thanks Alan!
Alan Ritchie from Custom Woodwork Design came highly recommended when I was looking for a supplier to do our bedroom cupboards. I approached him with a design I had in mind, and when he came to the house to take the measurements, I knew that he was the right person for the job. I gave him the go-ahead to proceed with the quote and Alan kept me up to date every step of the way. The day had finally arrived when our bedroom cupboards would be installed… I was super excited and Alan and his assistant Ali did not disappoint at all. Alan's attention to detail and quality of work is impeccable. I would highly recommend Alan Ritchie from Custom Woodwork Design for all your cupboard requirements. It was an absolute pleasure working with Alan. Thank you Alan! I'm also looking forward to Alan doing our kitchen cupboards next.
Alan and his associate of Custom Woodwork Design recently installed a Garapa deck for us in our courtyard in Observatory. Their efforts have transformed what was previously an impersonal cemented space into a delightful, stylish feature, which has immensely enhanced our guest house. Alan was most helpful, timeous, reliable and professional at all times. The house is a Victorian dame of some 120 years. The doors leading onto the court yard are all at different levels and the walls far from straight, complicating the task. Yet the workmanship of Custom Woodwork Design is of a superior quality. We will gladly recommend them for any bespoke carpentry requirements.